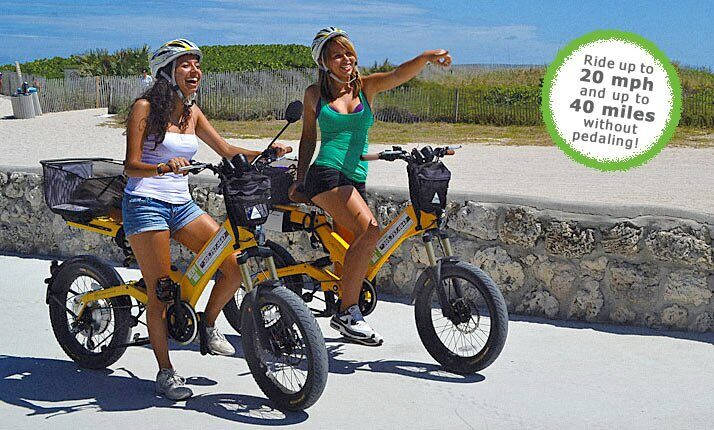 Ride up to 20 mph (32.2 km/h) and up to
40 miles (64.3 km) without pedaling!
Wheels 2 Go Miami from W2GM on Vimeo.
Electric bikes are a fun, easy and sweat free way to get around Miami. The A2B Metro has 7 gears and rides and pedals like a regular bicycle. This will allow you see more »to get some exercise if you like, and with the twist of the throttle, you may increase your speed without pedaling at all! Ride up to 20 mph (32.2 km/h) and up to 40 miles (64.3km) without pedaling! « close

We'd love to hear from you! Please share your Wheels 2 Go Miami riding experience
with an honest review on Trip Advisor.
3 hours $49
4 hours $59
8 hours $79
Multi-day packages
also available.
Rates include delivery of bike to and from your hotel or one of our convenient locations across Miami. We provide helmet, lock & key, storage bag and map, along with each rental. Taxes not included. Prices subject to change without notice.
Riders must be at least 16 years of age. Renters must be at least 18 years of age with a major credit card and photo ID. Riders 16 or 17 years of age must be accompanied by parent or guardian.
This activity is not recommended for individual under 5'2″ as the seat do not adjust to that height range. Weight capacity 300 lbs.
Hours of Operation
Daily 9am-6pm
Call or reserve online
South Beach
Enjoy a guided tour of South Beach via electric bicycle!
Meeting Place: 22 Street and Collins Ave.
End: 22 Street and Collins Ave.
Tour Duration: 1½ hours
Price: $50 per person
Venetian Islands & SoBe
Ride across the Venetian Islands, a bike-friendly and scenic stretch that connects Miami Beach with mainland Florida.
Meeting Place:
Bayside (100 Chopin Plaza)
End:(100 Chopin Plaza)
Tour Duration: 2 – 2½ hrs
Price: $59 per person
Key Biscayne Day Trip
Cycle your way across the Rickenbacker Trail to Key Biscayne Island.
Meeting Place:Bayside 100 Chopin Plaza
End:Bayside
Tour Duration: 4-4½ hrs
Price: $79 per person
Tours Available in English & Spanish
Click on Tours for more detailed info.
Check for updates on our self-guided and guided tours