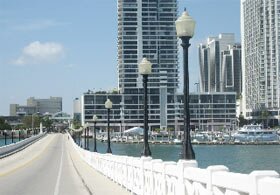 Electric bicycles are a fun, easy and sweat free way to get around and see the Miami sights. You can enjoy the scenery during any uphill ride across the many beautiful bridges in Miami. Wheels 2 Go Miami will deliver the bikes to the meeting point and pick them up at the end of your guided tour.
South Beach

Enjoy a guided tour of Historic South Beach as you ride see more »along the beaches, look out for the colorful lifeguard towers – designed by local artists. With a ride along the Beautiful Venetian Islands with spectacular water views. You'll hear from artists, celebrities, historians, architecture experts and others who know Miami Beach best. As you make your way around town you'll discover the mix of old and new, historic and hip, classic and cutting-edge – not to mention the people – that make Miami Beach special! « close
Meeting Place:
22 Street and Collins Ave.
End: 22 Street and Collins Ave.
Tour Duration: 1½ hours
Price: $50 per person
Venetian Islands & SoBe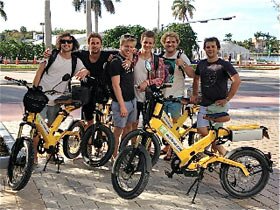 Ride across the Venetian Islands, a bike-friendly and scenic stretch that connects Miami Beach with mainland Florida. see more » Within moments you can ride along Ocean Drive, which is lined with boutique hotels, bars, restaurants, and lounges. Enjoy the famous Art Deco architecture, look out for the Mediterranean Revival style of Española Way and the grand Casa Casuarina – former home of fashion designer Gianni Versace. As you ride along the beaches look out for the colorful lifeguard towers – designed by local artists. « close
Meeting Place:
Bayside (100 Chopin Plaza)
End:(100 Chopin Plaza)
Tour Duration: 2 – 2½ hrs
Price: $59 per person
Key Biscayne Day Trip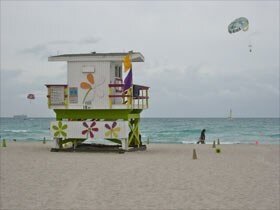 Cycle your way across the Rickenbacker Trail to Key Biscayne Island. see more » Enjoy spectacular beach and Ocean views along the way . You'll take a ride through the Old Zoo with a beautiful ride thru the cool mangrove trails to the Cape Florida Lighthouse. Then ride along the Ocean wall trail with views of Stiltsville Homes in the middle of the Ocean!. Cool refreshment Stops that you will not forget along the way! « close
Meeting Place:Bayside 100 Chopin Plaza
End:Bayside
Tour Duration: 4-4½ hrs
Price: $79 per person