Florida News - City News Miami originally published at Florida News - City News Miami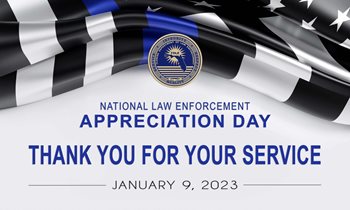 For Immediate Release
January 9, 2023  
TALLAHASSEE, Fla. – On National Law Enforcement Appreciate Day, Florida Department of Law Enforcement today honors the local, state and federal law enforcement professionals who are stewards of safety and justice.    
FDLE Commissioner Mark Glass
said, "I am honored to serve the citizens of Florida alongside my FDLE brothers and sisters, and those of our local, state and federal partners, who everyday selflessly serve our communities. These men and women know that their chosen profession is especially dangerous, seldom easy, and is sometimes not valued, but through their commitment to the citizens and visitors of Florida, they help keep us safe."  
Please take a moment to thank an officer or law enforcement professional in person, in writing or simply by wearing blue. We thank our communities for your support.  
For Further Information Contact:
FDLE Public Information Office
(850) 410-7001
Article originally published at https://www.einpresswire.com/article/610342897/fdle-honors-law-enforcement-personnel-on-national-law-enforcement-appreciation-day
Florida News - City News Miami originally published at Florida News - City News Miami