Health - Purple Foxy Ladies originally published at Health - Purple Foxy Ladies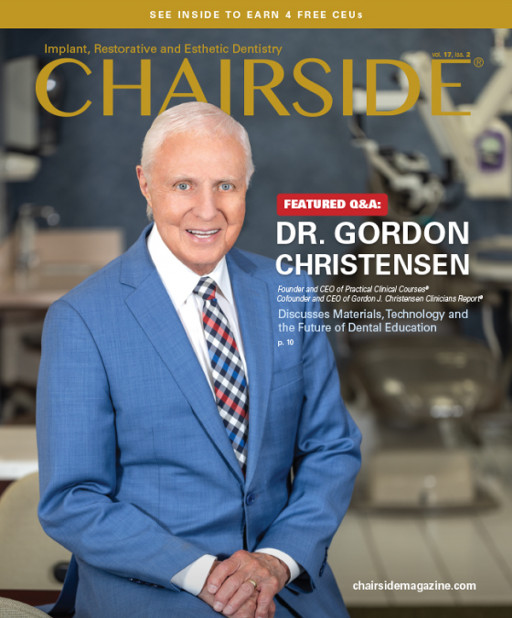 This issue showcases clinical cases in implant and esthetic dentistry and features an exclusive interview with Dr. Gordon Christensen.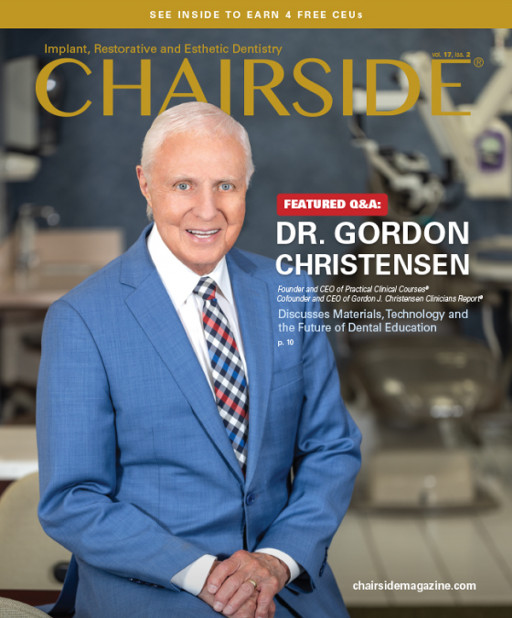 Volume 17, Issue 2 of Chairside magazine
Newest Chairside Magazine Issue from Glidewell Discusses Materials, Technology and the Future of Dental Education
NEWPORT BEACH, Calif. - January 10, 2023 - (
Newswire.com
)
Volume 17, Issue 2 of Chairside® magazine, now available in print or online at chairsidemagazine.com, gives dental practitioners a close look at important topics in the industry today. These topics range from restorative case studies to the latest trends in dental technology, research and education.
This edition features a special Q&A with industry giant, Dr. Gordon Christensen, founder and CEO of Practical Clinical Courses® and cofounder and CEO of Gordon J. Christensen Clinicians Report®. Readers will learn from his insights on everything from his research in Clinicians Report to his advice for young dentists getting started today.
"It is very exciting to feature an interview with Dr. Christensen in this issue, as he has a truly unique voice and perspective on where we currently are as an industry and where we are headed," said Andy Klein, managing editor of Chairside magazine. "With more than 47 years of unbiased research, he is someone who always has relevant advice."
Glidewell Clinical Education has also made great strides in 2022. In addition to highlighting the Glidewell Clinical Education Center's grand opening, the magazine features Glidewell's Guiding Leaders 2022 program. This nonclinical, business- and leadership-development initiative for practicing women dentists provides life-changing training for 25 participants. Those interested in learning more about the program for 2023 get a special look at how it has impacted recent graduates.
This issue's clinical highlights include case reports for a full-arch implant restoration, a full-mouth esthetic restoration and a study of how in-office milling was able to impact the quality of life for one young patient. The contributor of the latter report, Dr. Michael Buck, demonstrates how "giving patients a new smile can be much more than a cosmetic change … it's an opportunity to restore their self-esteem and give them a chance to pursue their full potential."
"On top of an array of clinical cases and practical business advice, clinicians can also earn four hours of free CEUs aimed at increasing success in their practices," said Klein.
Contact Information:
Eldon Thompson
Sr. Director of Marketing
mail@glidewell.com
Press Release Service by
Newswire.com
Original Source:
Newest Chairside® Magazine Issue From Glidewell Discusses Materials, Technology and the Future of Dental Education
Health - Purple Foxy Ladies originally published at Health - Purple Foxy Ladies